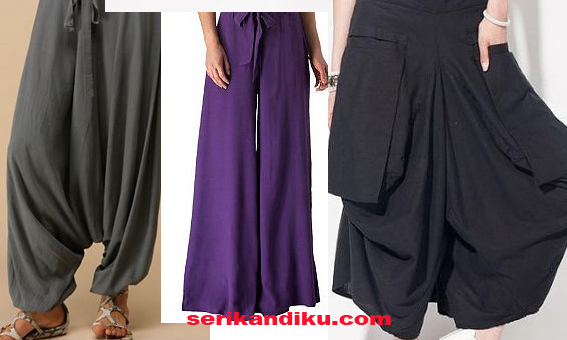 Saya post ringkas hari sementara menulis sesuatu yg panjang (kononnya. hehe)
Saya selalu suka pakai seluar instead of skirt atau jubah sebab senang nak bergerak atau melangkah laju, melompat etc. Rasa rasa ramai juga begitu. Tapi saya nampak ramai yg suka pakai jeans. Saya rasa jeans (yg ketat) kurang sesuai dikenakan oleh muslimah. Selain tak tutup aurat bebetul, kita juga nampak tak elegant. Seluar yg selalu menjadi pilihan saya adalah dari jenis palazzo, harem, jodhpurs atau culottes.. They are muslimah friendly dan banyak sebenarnya jenis2 seluar dalam dunia ni.. hehe..
Gambar di atas: buat yg kurang tahu, sebelah kiri sekali is harem pants, yg tengah palazzo, yg kanan sekali is culottes.. selalunya culottes pendek.. sekitar paras setengah betis.. so sesuai pakai waktu winter dgn boots.. please jgn pakai boots yg di tuck in dgn jeans yg ketat.. sangat2 tak muslimah.. Jodhpurs adalah seluar yg serupa dgn yg dipakai oleh jockey kuda atau orang2 India zaman penjajahan Inggeris, tapi designnya kita boleh dapat yg muslimah friendly..
atas & bawah ni  (jodhpurs) more contoh2 seluar yg muslimah friendly.. of course jgn ambik bulat2, I mean, adjustkan some parts etc.. yg ketat di longgarkan.. see what you guys think..